Meticulously engineered. Flawlessly produced.
For over three decades, J&R has provided unmatched quality by engineering, designing, and manufacturing the world's most complex lifting solutions.  Headquartered in Mukwonago, Wisconsin, J&R Engineering is located in the beating heart of America's Midwest. We're a company with roots in small town USA; however, we're far from the little consulting firm we were founded as thirty years ago. As we've grown and developed, we've emerged as a world leader in hydraulic boom gantry engineering and design. We've expanded beyond the United States and Canada, and provided our hydraulic boom gantry products in places as far away as Saudi Arabia and Mexico. But no matter how far away from Wisconsin we travel, we always stay true to our roots by providing products that are exceptionally safe, demonstrate superior performance, and are manufactured to the highest standards of quality possible.
Having played an integral role in the development of the first commercially available telescopic hydraulic gantry, J&R has virtually invented the hydraulic gantry market. This means that we understand gantries on a level that most companies never will. We're an organization that sees complicated lifting challenges as opportunities, and we're constantly developing new ways to approach—and ultimately change—the way gantries perform.
Our hydraulic boom gantry systems offer a number of benefits that are both cost effective and versatile. They are also specifically customized to address the individual concerns presented by each particular challenge. Add in J&R's proprietary LIFT-N-LOCK® cam lock system, and the result is a gantry solution that doesn't just deliver performance, but peace of mind as well.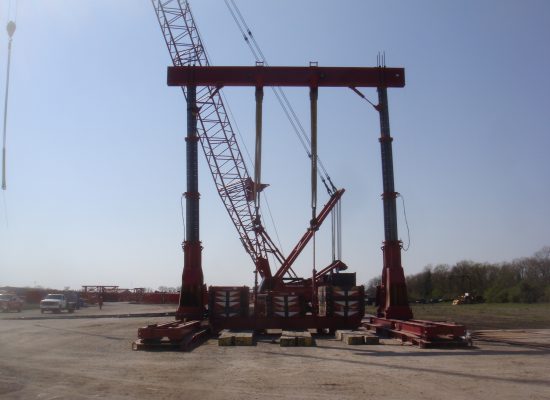 J&R Outperforms the Competition
Recently a well-known, worldwide heavy lifting and transport firm performed side-load testing on their Hydraulic Gantries. Being an owner of Gantries from the three major manufacturers (J&R Engineering and the other competitors) they were uniquely qualified to do so. They conducted side-load tests at 2% over capacity. Each gantry was fully extended, with the load lifted off the ground a few inches. A manual cable winch with a wireless load cell attached was used to pull the load sideways the prescribed amount. We were invited to witness the testing. Of the three brands tested, the J&R Engineering LIFT-N-LOCK® gantry was the only one to pass the test to the standards that were required. One of our competitor's gantries deflected 24 inches side to side and about 20 inches end to end, and did not reach the 2% requirement for the test. They had to stop because the boom continued to bend without the wheels lifting off the track. The other competitor's gantry tested did not even make it to 1% over capacity, and testing was stopped because of boom deflection. The J&R gantry reached the 2% over capacity level, the boom only deflected a few inches from side to side, and when measured end-to-end, the deflection was under one inch! Needless to say, we have heard that the client that conducted these tests has greatly restricted or eliminated use of our competitor's products, especially for greater capacity or highly visible projects.